The War on Religion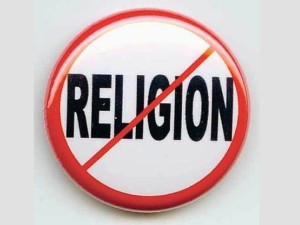 Much has been said and written about the groundswell of aggressive atheists who have declared war on religion in our culture. In books, blogs, and TV interviews they cite numerous instances in which religious people have done evil things, and then describe how the world would be a better place if there were less religious people living in it.
How should we, as Christ-followers, respond to this "war on religion"?
The answer depends largely on how we choose to define religion.
If by "religion" we mean a collection of unproven—and many times unprovable—faith commitments that shape our attitudes and behavior, then everyone has a religion of some kind. By this definition, even atheism is a form of religion. If this is what we mean by religion, then we should respond to this "war on religion" by conducting ourselves in a manner worthy of the gospel by standing firm, together as one (Philippians 1:27).
But if by "religion" we mean the behaviors humans beings engage in, in an attempt to gain God's favor or enhance our social status, then our response to the "war on religion" should be to join in the fight against it. In doing so, we put ourselves in good company. The war on this particular form of religion was initiated in the Old Testament by the prophets. It was escalated in the gospels by Jesus and continued by Paul in his sermons and writings.
Jesus' battle with the religious establishment of his day ended in crucifixion. Paul's battle against religion left him facing opposition from all sides.
He was opposed by idol-worshippers and the merchants who made money off of them, because his preaching undermined their gods and was bad for business. This was to be expected.
His Jewish brothers and sisters, who didn't embrace Jesus as the Messiah, often tried to kill him or run him out of town for preaching blasphemy. This was also to be expected. Paul did the same before he became a Christ-follower.
What is surprising, is that Paul also had significant trouble with other Jewish Christ-followers. They didn't think Paul's version of the gospel was Jewish enough, and he thought their version was too religious.
Seemingly out of nowhere, Paul's battle with these folks shows up in his letter to his friends in Philippi.
"Further, my brothers and sisters, rejoice in the Lord! It is no trouble for me to write the same things to you again, and it is a safeguard for you. Watch out for those dogs, those evildoers, those mutilators of the flesh. For it is we who are the circumcision, we who serve God by his Spirit, who boast in Christ Jesus, and who put no confidence in the flesh—though I myself have reasons for such confidence. If someone else thinks they have reasons to put confidence in the flesh, I have more:" (Philippians 3:1–4, NIV)
He tells them to beware of the Judaizers, those Jewish Christians who told gentile converts they also had to obey the Law of Moses in order to follow the Jewish Messiah. They preached Jesus and circumcision (the mutilation of the flesh). Paul preached Jesus alone. They are a thorn in Paul's side and he can't hide his animosity toward them. He describes them in the most derogatory of terms: dogs, evildoers and mutilators.
There is no evidence in the letter that the Judaizers are already causing trouble in Philippi. If they had been, Paul wouldn't have waited until the middle of the letter to mention them. More likely, Paul is preparing his friends to resist their message when they do show up in Philippi. Paul knows from firsthand experience how tempting their message can be.
In verse three, after drawing a line between his understanding of the gospel and theirs (We are the circumcision, the people of God. Not them!) he explains the fundamental difference between the two messages. He, and the Philippians, trust in Christ. The Judaizers trust in the flesh. By "flesh" he seems to mean the way humans use their religious activity or moral achievement as grounds for boasting before God.
Paul understands this way of thinking all too well, because this was once the way he approached God. In verse four, he boasts that he has more reason to put confidence in the flesh than his opponents do. He can preach their sermons better than they can.
Permission To Brag
I hate ice breakers. Not the the thick-hulled ships that cut paths through polar waters, but the opening exercises facilitators use to get a small group of strangers talking to each other. As an introvert, the last thing I want to do is be forced to interact with a bunch of people I don't know. Nothing makes want to hide in the restroom more than when a group leader says, "Here's an exercise to help us get acquainted with each other."
There is, however, one ice breaker that doesn't bother me. It goes something like this: Tell us one thing you want us to know about you. In other words, for the next few minutes, you have the group's permission to brag on yourself. Now that's a great ice breaker.
At the end of verse four, Paul gives himself permission to do a bit of bragging.
"…though I myself have reasons for such confidence. If someone else thinks they have reasons to put confidence in the flesh, I have more: circumcised on the eighth day, of the people of Israel, of the tribe of Benjamin, a Hebrew of Hebrews; in regard to the law, a Pharisee; as for zeal, persecuting the church; as for righteousness based on the law, faultless." (Philippians 3:4–6, NIV)
As you can see below, his religious pedigree and resume is quite impressive. He really can out Judiaze the Judaizers.
?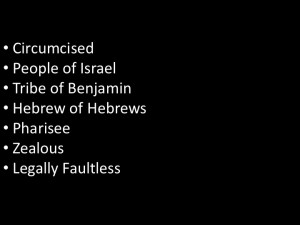 In verse seven, Paul starts talking like an accountant. As you know, accountants have a specialized way of determining what counts and what doesn't. Some use what can be called "creative accounting practices." These practices can sometimes lead to bankruptcy and jail. Paul can definitely be described as a creative accountant.
"But whatever were gains to me I now consider loss for the sake of Christ. What is more, I consider everything a loss because of the surpassing worth of knowing Christ Jesus my Lord, for whose sake I have lost all things. I consider them garbage, that I may gain Christ" (Philippians 3:7–8, NIV)
His ledger looks something like this.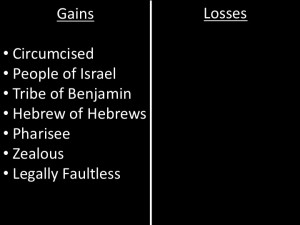 But then he moves all of his gains to the other side of the ledger.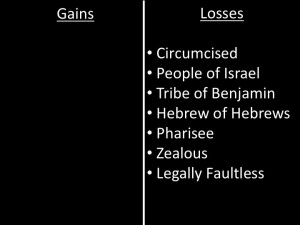 What moved them there?
Not what, but who.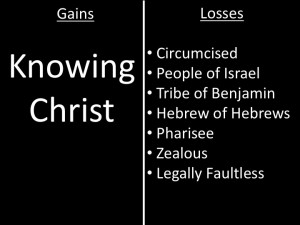 Knowing Christ forever changed Paul's attitude toward his past religious activity.
He goes on to say that compared to knowing Christ, his religious gains, or assets, are worthless garbage. The word he uses in the original language (skubula) can be translated as dung or discarded scraps of food, which wild dogs would forage through (maybe another shot at the "dogs" in verse 2). My inner twelve-year-old loves the idea of Paul describing his past religious works as doo doo. But I can also see the connection between the dogs of verse 2 and to scraps of food. My suggested compromise translation is to say that Paul describes his past religious gains as "Scooby doo doo." It's probably a good time to mention that I'm not a Greek scholar.
"I consider them garbage, that I may gain Christ and be found in him, not having a righteousness of my own that comes from the law, but that which is through faith in Christ—the righteousness that comes from God on the basis of faith." (Philippians 3:8–9, NIV)
Paul can say all of this because he has discovered a different kind of righteousness. Not a righteousness for which he can take credit. But rather a righteousness from God that comes from trusting in the faithfulness of Christ, instead of his own religious activity. This is the difference between putting confidence in the flesh and boasting in Christ (verse 3).
"I want to know Christ—yes, to know the power of his resurrection and participation in his sufferings, becoming like him in his death, and so, somehow, attaining to the resurrection from the dead." (Philippians 3:10–11, NIV)
This leads Paul to declare that his sole ambition in life is to know Christ, which not only includes knowing the power of his resurrection, but also sharing in Christ's suffering and death. In other words, Paul is saying his life is now shaped, not by his religious activity, but by the life, death and resurrection of Christ. Just as Christ made himself nothing for the sake of others, Paul has lost all things for the sake of Christ.
And yes, Paul's version of creative accounting led to bankruptcy and jail. (Remember, he's writing from prison.) But instead of cooking the books to increase his status, his understanding of the gospel caused him to let go of everything except Jesus.
His past religious activity and heritage no longer matters.
What really matters is knowing Christ.
The Mystery of Why?
This passage raises three "Why?" questions.
1. Why would the Philippians be tempted by the Judaizer's message?
On possibility is that it could solve their persecution problem. Judaism was a tolerated religion in the Roman Empire. The Jews didn't face the same pressure to participate in the Emperor Cult that gentiles did. Embracing Judaism, while continuing to follow Christ, might ease their suffering and dispel the opposition they were facing. (This is only one possible theory.)
What would be so wrong with doing this? Is it really such a big deal for gentiles to come to Jesus through Moses?
From Paul's perspective, the Judaizer's message was just another version of the status game. Which answers the second question.
2. Why does Paul declare war on this kind of religion?
Roman status was based on heroic achievement. The Judaizers were basing status on religious achievement. Both were climbing the same ladder of status, just going up different sides. Climbing the status ladder runs counter to the example of Jesus who gave up his status in heaven for the sake of others. Which answers question three.
3. Why does Paul describe his religious heritage in such an offensive way? Why does his consider his once glorious assets as stinky liabilities?
Both religious and moral achievement give a sense of false confidence in the flesh (human ability), which ends up creating more problems than it solves.
When Paul talks about his reasons for confidence in the flesh, he can't help but brag. Putting confidence in his own religious and moral achievement caused him to think of himself as being better than others. His resume reeks of superiority. Religious pride destroys unity and keeps us from being able to put the needs and interests of others above our own.
The Philippians might think they could solve their problem by following the Judaizers, but in the long run, religion will keep them from imitating Jesus and conducting themselves in a manner worthy of the gospel.
Because the gospel is at stake, Paul describes his religious achievements as "Scooby doo doo." He says this because he's discovered something much better, with more power.
A Better Way
That better way is knowing Christ. Paul has experienced the power of Jesus' resurrection in his relationship with Christ; something he never found in his religious achievements. That's why Paul can say he'd rather be suffering with Christ in prison or dying with Christ as a martyr, than chasing status through religious achievement.
Paul uses his life as a way of illustrating what he has already described in Philippians 2:1-11, which is exactly what he said he was going to do in 3:1."It is no trouble for me to write the same things to you again, and it is a safeguard for you."
Paul is right. We can never see or hear too much gospel. We never outgrow the need to hear the story one more time, because we're never completely free of the temptation to put our confidence back in our own ability. We never completely overcome the impulse to base our righteousness on what we're doing, instead of on what Christ has done for us. We never lose the capacity to brag on ourselves at a moment's notice.
The flesh is always there, lurking in the shadows, like a wild dog, ready to attack.
Maybe this is why Paul sticks a "Beware of Dogs" sign and some offensive language in the middle of his friendliest letter. Because he knows how tempting religion can be. And because he knows that knowing Christ and the power of his resurrection makes everything else seem like "Scooby doo doo."