Several weeks ago, I watched Survive and Advance on ESPN. It's a documentary about how the North Carolina State Wolfpack defied the the odds to beat the University of Houston Cougars (Phi Slamma Jamma) for the 1983 NCAA National Championship in basketball.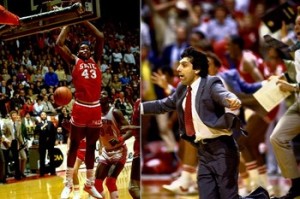 Even if you're not a huge college basketball fan, you likely recognize the two most enduring images from that game. The first is Lorenzo Charles dunking Dereck Whittenburg's air ball at the buzzer to give NC State the victory. The second is NC State's coach, Jim Valvano, running around the court after the game, desperately looking for someone to hug.
Hanging over every piece of footage of Valvano (Jimmy V), the charismatic coach and compelling public speaker, is the knowledge that he would die of cancer a decade later at the age of 47. But not before challenging the sports world to enlist in the battle against cancer. This led to the formation of the Jimmy V Foundation, which over the past twenty years, has raised over 100 million dollars for cancer research.
In the documentary, Coach Mike Krzyzewski (Coach K), of Duke University and good friend of Jimmy V, reflects on the connection between the championship and the cancer. He describes how NC State's miracle win gave Jimmy V celebrity status, and thus a platform, from which to lead the fight against cancer ten years later. Jimmy V's victory in 1983 prepared the sports world to pay closer attention to his suffering in 1993.
An insightful observation from Coach K.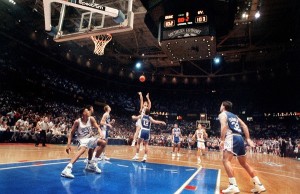 Before Duke played Louisville in this year's NCAA tournament, Coach K complimented the way Rick Pitino responded when the Kentucky team he was coaching in 1992 suffered a heartbreaking loss to Duke on a last second shot by Christian Laettner. Coach K went on to say it's usually the person who loses a close game who has the greatest opportunity to shine, because we can learn more about a person from how he responds to adversity and disappointment than from how he responds to success.
Another insightful observation from Coach K. He's kinda smart isn't he? He just might amount to something someday.
Actually, Coach K's perspective on adversity is similar to the way Paul talks about his difficult experiences in his letters collected in the New Testament. His letter to his friends in Philippi is a great example.
One of the skills he wants to impart to the Christians in Philippi is the ability to see God at work in the midst of difficult circumstances, to see adversity as an opportunity to shine for Christ and glorify God.
This may be one of the most important skills a Christ-follower can acquire and develop. That we'll face adversity is not in question. What is up for grabs, is how we'll respond to it when we do.
Perhaps Paul's words from prison can help us get ready.
"Now I want you to know, brothers and sisters, that what has happened to me has actually served to advance the gospel." (Philippians 1:12, NIV)
In my next post, I'll walk us through what he has to say in the verses that follow.