From Amazon.com: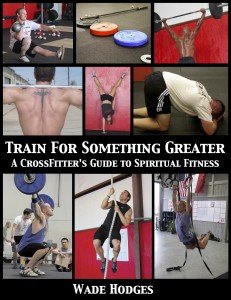 Why can't church be more like CrossFit?
What if Christ-Followers pursued spiritual fitness with the same tenacity and intensity with which CrossFitters pursue physical fitness?
What would it look like to take CrossFit principles and insights and apply them to training for Christ-likeness?
These are the questions that spawned the book you're about to read.
In Train For Something Greater, Wade Hodges throws his passion for CrossFit and his desire to become more like Christ into the black box. The outcome is a humorous, practical and inspirational discussion about what training for physical and spiritual fitness have in common.
If you love CrossFit almost as much as you love Jesus, you're going to love exploring the infinite connections between your two passions.
If you love CrossFit more than you love Jesus, prepare to explore a deeper meaning behind the phrase "ready for anything."
If you've never heard of CrossFit, but are longing for a fresh approach to training for Christ-likeness, get ready to see spiritual formation from a new perspective, while also being overcome with a strong desire to pick up something heavy.
Don't have a Kindle reader?

Not a problem. It can be read on any device (Macs, PCs, iPads, iPhones, Android devices and Blackberries) with the Kindle reader app. (Available here)