Stuck In A Moment
I went to high school in small town in West Texas. There wasn't a lot to do on Friday and Saturday nights, so we spent many evenings on the drag. We'd drive up and down Broadway, make a loop through Sonic at one end of the drag and then turn around in the parking lot of a convenience story at the other end. Night after night, we drove back and forth, hoping a car full of pretty girls from a nearby town would miraculously appear. They never did.
I remember a small group of guys in their twenties—old men in the eyes of a high schooler—who would cruise the drag as well. They wore their old letter jackets, covered with award patches to show how great they were in high school. They parked their Trans Ams in the parking lot of an auto parts store and acted cool, like they owned the city. But they weren't cool to us. We pitied them. They were has beens, stuck in a moment they couldn't get out of. They believed the best years of their lives were behind them. Every weekend they did their best to relive the glory days, unaware of how silly they looked.
In latter half of Philippians 3, Paul explains why his impressive religious past has no future. After describing his past religious accomplishments as Scooby Doo Doo compared to knowing Christ and the power of his resurrection, he says:
"Not that I have already obtained all this, or have already arrived at my goal, but I press on to take hold of that for which Christ Jesus took hold of me. Brothers and sisters, I do not consider myself yet to have taken hold of it. But one thing I do: Forgetting what is behind and straining toward what is ahead, I press on toward the goal to win the prize for which God has called me heavenward in Christ Jesus." (Philippians 3:12–14, NIV)
He uses athletic imagery. He's running a race. He hasn't crossed the finish line. He's going hard, leaning forward, pressing into the future. He's not looking behind him. He's not turning back. He has his eyes on the prize ahead, which is the full knowledge of Christ at the resurrection.
"All of us, then, who are mature should take such a view of things. And if on some point you think differently, that too God will make clear to you. Only let us live up to what we have already attained. Join together in following my example, brothers and sisters, and just as you have us as a model, keep your eyes on those who live as we do. For, as I have often told you before and now tell you again even with tears, many live as enemies of the cross of Christ. Their destiny is destruction, their god is their stomach, and their glory is in their shame. Their mind is set on earthly things." (Philippians 3:15–19, NIV)
He then calls his friends in Philippi to imitate his (and others) way of life. Not everyone lives as Paul does. He describes those who don't as "enemies of the cross of Christ." They're the ones who are doing the opposite of what Paul has described in his letter. They're not putting the needs and interests of others above their own. They're not willing to suffer for the gospel. They're making compromises to escape persecution. They are selfish, living only to gratify their appetites in the present moment. Paul says they have no future, because instead of having the mindset of Christ, they have their minds set on earthly things. In other words, they are living with no regard for God's future.
Some get stuck in the past. Others get stuck in the present. Paul wants his friend in Philippi to keep looking ahead.
Citizens Of Heaven
He continues the contrast between the two ways of living in verse 20:
"But our citizenship is in heaven. And we eagerly await a Savior from there, the Lord Jesus Christ, who, by the power that enables him to bring everything under his control, will transform our lowly bodies so that they will be like his glorious body." (Philippians 3:20–21, NIV)
He says we don't have our minds set on earthly things, because we are citizens of heaven. The language of citizenship is strategic. He's making a distinction between being a Roman citizen and citizen of heaven. Citizens of Rome pledged their allegiance to Caesar and his empire. Citizens of heaven pledged their allegiance to the risen Christ, who reigns in Heaven.
Paul and the Philippians were not citizens of Rome who happened to be Christians. They were citizens of heaven who happened to live in the Roman Empire. This distinction was not always easy to maintain. They faced pressure to give their primary allegiance to Caesar, instead of Christ. That tension still exists today. We are Christians who happen to be Americans. Not the other way around. Five minutes on Facebook during election season will remind you often followers of Christ forget this distinction.
Paul says that as citizens of heaven, we're waiting for a "savior" from there. Again, this is strategic language. Caesar was sometimes referred to "Lord and Savior." Paul is making a political claim. We don't belong to Rome. Caesar is not our Lord and Savior. The risen Christ is. We're waiting for Christ to show up and show Caesar who the real king is. And then, with that same power, he'll transform our humble bodies into glorious bodies like his. This is what is waiting for us at the finish line. This is the heavenward call Paul mentions in 3:14. And this is why we keep leaning forward, rather than looking back or focusing only on the present.
An Outpost of Heaven
When Paul says the Philippians are citizens of heaven, he's implying the church is an outpost or colony of heaven, just like Philippi was a Roman colony. The goal of those living in a Roman colony like Philippi was not to go live in Rome someday. It was to extend the influence of Rome in Philippi, so that life in Philippi matched life in Rome. The hope of those living in a colony of heaven is not go live in heaven someday. The goal is to extend heaven's influence on earth so that the quality of life on earth is as much like heaven as possible.
Jesus articulates this longing when he teaches his disciple to pray: Our Father in heaven, hallowed be you name, your kingdom come, your will be done, on earth as it in heaven. The prayer of a Christ-follower is not to go to heaven someday. It's to see more of heaven come to earth in our lifetime, and then at our resurrection, to see all of creation, including our bodies, transformed when Christ comes and floods the earth with heaven's glory.
If bringing more of heaven to earth is our prayer, then our mission as citizens of heaven is to anticipate what life in God's new world will be like when Jesus returns and to start living that way now. This means we get our ethics not so much from the past, as from the future. We let our understanding of God's future shape the way we live in the present.
Imagine that you're in the Salt Lake City International Airport in the middle of winter. Outside the wind is howling, the temperature is freezing, and the chance of snow is 100%. Everyone in the airport is dressed appropriately for the weather outside: gloves, heavy coats, hats, and scarves. Everyone except for the guy who is wearing flips-flops, shorts, and a red aloha shirt. If you saw someone dressed like that in the middle of winter, you would consider two possibilities. First, he could be crazy and in need of a heavy coat (and medication). Second, he is on his way to Hawaii. Instead of dressing for how things are right now, he's dressed for how things will be in his not too distant future.
Our understanding of the future influences what we do in present.
Will there be hunger in heaven? If the answer is no, then we make feeding the hungry a priority on earth today.
Will there be racism in heaven? If the answer is no, then racial equality is a priority for a Christ follower on earth.
Will there be gender discrimination in heaven? If the answer is no: then gender equality is a priority for Christians on earth.
This mindset not only shapes our ethics, but also energizes our attitude toward the work we do every day. Our professions are not just ways to earn a living. They are also the primary means through which citizens of heaven bring more of heaven to earth.
Restore The Future
In Acts 3:21, Peter mentions the "restoration of all things" in one of his sermons in Jerusalem. The language of restoration makes my heart beat faster. My church is part of a restoration movement begun two hundred years ago by Christians who wanted to restore New Testament Christianity. While I think the restoration impulse is close to the heart of God, I wonder if our movement's biggest mistake, maybe even its fatal flaw, was to attempt to restore something from the past, when what God calls us to do as citizens of heaven is to join him in restoring the future.
Should we base our life together as a church on what they did back then? Or do we let our understanding of the way life will be in God's future shape what church looks like right now? How would churches be different if instead of trying to restore the past, we joined God in his work to restore the future?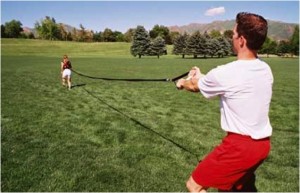 Some athletes use resistance bands when training for speed. They attach one end of a large rubber band to an anchor and the other endto a harness around their waist. Then they run against the resistance of the band. When they turn around, they run toward the anchor and the band pulls them forward.
Think about this image and ask yourself, "As we run the race, where is God?" Is God behind us, holding onto the band, pulling against us, slowing us down, providing resistance? Or is God in front of us, pulling us forward, into his future, into a world where his name is always honored, his will is always done, and where there is no distinction between the way things are on earth and the way they are in heaven?
Is God dragging us back into the past or pulling us into the future?
Are you wearing your letter jacket or an aloha shirt?