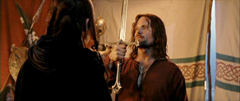 There's a great scene in Return of the King when when Elrond presents Aragorn with a big ole sword that can only be wielded by the true king. He tells Aragorn that its time to "set aside the Ranger, and become who you you were born to be."  The time had come for his behavior to fall in line with his true identity.
Spiritual fitness is not about about improving ourselves by changing our external behavior. That's nothing but religion and it doesn't work. It only leads to self-righteousness for those who play by the rules better than others and self-condemnation for those who can't keep up with the cool kids.
Spiritual fitness is the readiness to behave in a Christ-like way at a moments notice, when the spotlight is on us and the angels are holding their breath. Christ-like behavior, when the stakes are high, flows from habits ingrained in the heart over time. These habits grow out of and are held in place by our identity.
People who see themselves as athletes think, train, and act like athletes. But how must we see ourselves in order to think, train, and ultimately act like Christ? One obstacle to spiritual fitness is the difficulty in cultivating a powerful self-perception upon which habits can be built, and from which Christ-like behavior can flow.
Perhaps the only thing more difficult than convincing former couch potatoes that they are in fact athletes, is letting ourselves be convinced that as human beings, created in the image of God, we are loved and accepted by our creator just as we are and not because of how we behave. This is so hard for so many of us to believe. Just as past labels like "fat" and "out of shape" and "clumsy" get in the way of seeing ourselves as athletes, our true identity as human beings is hidden by the many negative spiritual labels stuck to us as we stumble and stagger through life.
Who do you believe you are?
How have you been labelled in the past?
Are you "lost"?
A "sinner"?
An "outsider"?
A "stupid idiot"?
An "object of wrath worthy of hell"?
These labels may have been  applied by well meaning, but insensitive and misguided religious people who only know how to use negativity to manipulate the behavior of others. Or they may be self-generated. If others called me what I call myself  throughout the day, I'd always have bloody knuckles. Regardless of the source, these negative labels rarely influence our behavior and shape our perspective for the better. They may scare or shame us into some temporary behavior modification, but they have no power to transform us into the likeness of Christ.
Long term transformation is rooted in a new identity. Physically, we are athletes. Spiritually, we are . . .
Well, what exactly are we? What word(s) can we use to describe the way God sees us, words that will change our distorted self-perception and transform our behavior from the inside-out?
The description I like best is that we are "little christs." We are an extension of the hands and feet of Jesus on the earth.
The word "Christian" actually means little Christ. Unfortunately, "Christian" has become a meaningless description in our culture. It communicates nothing of the radical shift in the identity of those who were first called "Christians." "Little christ" is just off-center enough to jar us into considering the implications of wearing such a label.
In the New Testament, it's clear that Jesus expects his followers to carry on his work in the world. We are recipients of God's grace and blessings, but we are also instruments of grace and conduits of blessing to those around us.
How would beginning to think of ourselves as "little christs" change our posture in the world and transform our external behavior?