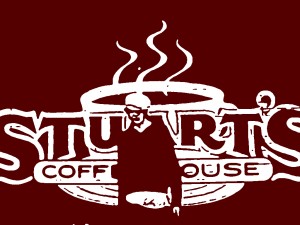 As promised in a previous post, here's a rundown of some of the lessons I've learned from past coffee shop experiences.
The first place from which I tried to work was the Café at the Barnes & Noble near my office in Bellingham, Washington. Going there was a rookie mistake. Something only someone who had just moved from Abilene, Texas to the Pacific Northwest—home of rain, waterproof flannel, and cool coffee houses—would do. I thought I could draw inspiration from all the books and magazines surrounding me. They turned out to be a massive distraction.
Lesson #1: When staring at a blank page, having thousands of excuses not to work a few steps away—some of them with pictures—is a recipe for non-productivity. I wasted entire afternoons doing "research" while writing nothing. After a few weeks, I moved on.
Speaking of wasting time, try to avoid looking for a good place to write when you actually have writing to do. The risk is that if you go to a place to try it out and find it impossible to work there, because of bad music or the wrong vibe, you can easily waste your afternoon driving around town looking for a better spot. This can also be a handy excuse for procrastination. Make sure that your never-ending quest to find a better coffee shop isn't really just a bad case of resistance.
Lesson #2: Take scouting trips. Set aside some time on a weekday afternoon and go hang out at a few places. Take a book and read a chapter or two. Open up your journal and write a few paragraphs and see how it feels. Don't go on Saturday or Sunday. Most places have a totally different vibe on the weekends.
Once I escaped the corporate clutches of B&N, I did a lot of work at the Bean Blossom Café. It was a busy little mom and pop joint sitting on a triangle shaped lot created by three intersecting streets. It wasn't the most comfortable place in the world, but they made killer mochas and the sugar-crusted shortbread was irresistible. Early on, I would order a mocha and a square of shortbread and eat it all before I began to work. This gave me a boost of energy and a 15 minute window of creativity before I crashed and my temporarily agile brain bogged down in the drowsiness of an overcast afternoon in the Puget Sound.
Lesson #3: If you're going to work at a place that serves tasty treats, use them as a reward, not for a jump start. Shortbread tastes much better AFTER writing 1500 words… or 1000… or 500. No need to set the shortbread bar too high.
Working day after day in the same coffee shop can get boring. You'll tire of seeing the same people everyday. Even worse, some of the other regulars will get to know you and start interrupting you while you work, which defeats the purpose of why you're there. (If you'd like some tips for meeting people and making new friends at coffee shops, you're at the wrong blog. Move along. Nothing to see here.)
Eventually, you're going to need more than one place to work. Back when I didn't have an office to work from at all, I had a coffee shop that I liked to go to in the mornings and another that I went to in the afternoons. If I work from a place all morning and then leave for a lunch appointment, it feels weird to come back to the same place later that day and start working again. It's like there is only so much creative juice in one place and once I absorb my allotment for the day, there's no need to come back.
Lesson #4: Cultivate multiple coffee shops for different times of the day so you always have a fresh place to go where no one knows your name.
Once I started to tire of the Bean Blossom, I added Stuart's Coffee House to my rotation. Stuart's was in a worn down building in downtown Bellingham. There was always a group of gothic looking youngsters sitting on the sidewalk by the front door sketching out their next tattoo.
Stuart's was a classic Northwest coffee house (not shop). It had great coffee and played great music. They served a extra-large mocha that came in a mug with two handles. There were lumpy couches and rickety chairs—the kind you find by the side of the road—scattered throughout. There was a chess board on every available table and stacks of used books on the shelves. Everything about Stuarts said "Hang out here!" and lots of people did. It was well-used. Which also made it one of the dirtiest coffee houses I've even been in. Plop down on a couch with too much gusto and the dust would fly into the air and fall into your coffee like cinnamon sprinkles from heaven.
I made the mistake of taking Heather there once for an afternoon cup of coffee and she freaked out. She wouldn't sit down, order anything or hang around long enough to let me finish my cup. She couldn't figure out why I'd voluntarily spend time there. Honestly, it wasn't the kind of place in which I naturally fit, yet I got a ton of work done there. There was something about being in a slightly awkward and uncomfortable environment that sparked my creativity. I came up with some of my best crazy ideas there.
Lesson #5: Hanging out places that make you slightly uncomfortable can inspire you to take some uncomfortable risks in your creative work.
Bonus Lesson: Don't take your spouse to your favorite writing spot. Worlds will collide!
What lessons have you learned from working in strange, busy, or uncomfortable places?