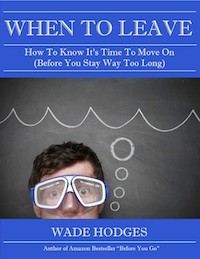 It's been a couple of months since I released When To Leave: How To Know It's Time To Move On (Before You Stay Way Too Long). Just as I did with my first book Before You Go, I've compiled a summary of what others have said about When To Leave after reading it.
I've received a handful of responses from those struggling through a possible transition. I'm glad I wrote this book and I'm honored that others in the midst of difficult situations are finding it to be helpful.
Here's some of what they're saying:
"I just finished the book, and it has begun (or continued, rather) some ideas, healing, and understanding of the situation I'm in right now.  Just listening to your story helps me realize that others have been through similar junk before, and God will get us through it, most likely to bring us into a greater place of service to Him."
—From a Reader's Email
"Best things about the book: its simple structure, no nonsense directness, conversational style, regulated humor and practicality. This book is most excellent and will be helpful to many for years to come."
—From a Reader's Email
"Your writing is really straight forward without imposing guilt and shame. I never once flinched or felt like you were picking on preachers, or ridiculing, or belittling foolish decisions. I don't know if I would have listened…but I wish I'd read it straight out of college!"
—From a Reader's Email
"Just want to thank you for your book. It is a gift to me. It sheds a lot of light on my situation. Right before you have to leave you feel very lonely. You feel as if no one else can identify with you. This book came my way at such a time. Thank you so much for being a friend and someone who could identify with me at this awkward time in my life."
—From a Reader's Email
"I just finished it in one sitting. Literally couldn't stop myself. I laughed (guffawed, really), cried, and definitely felt like he'd somehow been reading my mail. My wife and I are right in the thick of a potential transition and I found his work immensely helpful in determining our family's next steps. Thanks a million, Wade!"
—David on Amazon
"As a 'Veteran' of full-time ministry for the past 28 years, I found your book to be pleasantly insightful, passionately inspiring, and personally challenging!!! There are two things that I plan to do with regard to this book: 1) HIGHLY RECOMMEND IT to as many people as I possibly can, especially those in ministry; and, 2) re-read this book on a regular basis (probably on an annual basis) to keep me grounded and honest with myself and my ministry!!!"
—Roger on Amazon
"This would have possibly saved me a lot of heart ache at my first vocational ministry. There is a great tension that lies between leaving to early and leaving long after you should have left. Wade delivers quick insight to help anyone navigate their current ministry and learn from a seasoned minister about the bumps in the road. I would highly recommend all college students read this before accepting their first ministry job and then current ministers should read to take a current inventory of their job status."
—Lantz on Amazon
"From When to Leave, Wade issues humorous declarations shuffled alongside sobering ponderizations. One thing about Wade Hodges that has remained true from the get-go; regardless of personal injury and pain, he never quits imagining what God might do to guide us to our best. I like that about my friend."
—Terry Rush on his blog
"Wade Hodges new book is probably one of the most quietly significant books that I have read in quite some time. This book is going to go into my rotation of books that I need to give to people.  This short book is an excellent framework from which to start wrestling through whether it is time for you to move on or not.  Reading the book with an open mind will give you a series of questions that every pastor should be asking himself (and those he trusts) on a regular basis… and probably should read before starting at a new church."
—Matt Steen on his blog
"If you are a minister and you are considering leaving your current church (either by testing the waters with a few carefully submitted resumes or by responding to a few recent nibbles on your line), you ought to give Hodges' book a read. It's quick. It flows. It's cheap (Amazon Prime members can download it for free, it's $4.99 for the rest of you). And, most importantly, it's honest. It's full of the kind of wisdom you'd like to think you have swimming around somewhere down in your own gut, but even if it's there, it's more likely to surface if you let a book like this dredge it up."
—Shane Alexander on his blog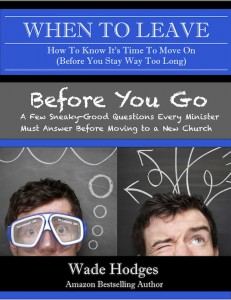 You can download When To Leave here and Before You Go here or get a combined copy of both books here.